Gulf Shores Airport: Tower Wins Award, New Terminal Planned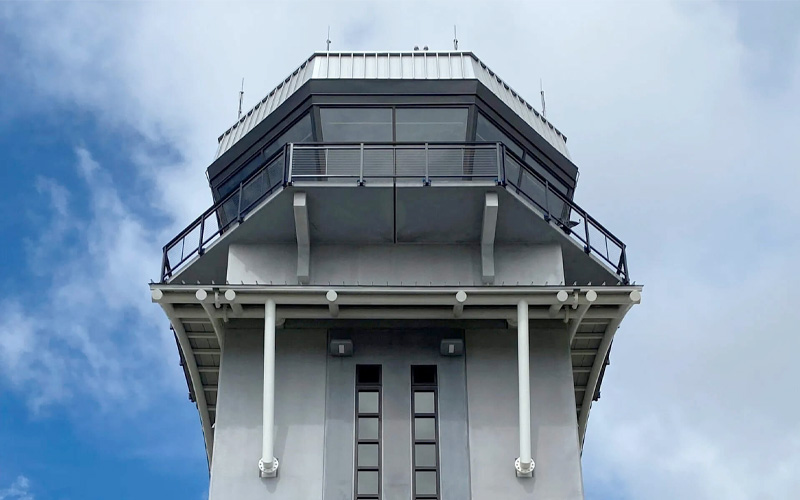 GULF SHORES, Ala. — Mobile's White-Spunner Construction, LLC (WSC), recently announced that the newly constructed air traffic control tower at Gulf Shores International Airport at Jack Edwards Field has been awarded the General Aviation Project of the Year Award by the American Association of Airport Executives (AAAE). The award was presented at the AAAE Southeast Chapter Annual Conference in Memphis this month. White-Spunner completed the multimillion-dollar project at Jack Edwards Field in late 2021 with engineering firms Barge Design Solutions and AJT Engineering, Inc. The 95-ft-tall tower consists of nearly 2 million pounds of concrete and more than 6 mi. of copper electrical and communications wiring. It contains a modern communications system that allows aircraft to connect with tower controllers from more than 30 mi. away. Officials say the tower has been exceedingly helpful in creating safe airspace and streamlining operations at the second-busiest airport in Alabama.

In other big news for the airport, "the Gulf Shores City Council appeared ready to give the go-ahead to Gulf Shores airport manager Scott Fuller to pursue a short-term agreement for the construction of a modular terminal," AL.com reported. The council's official vote on the agreement with Atlanta-based Tbi Airport Management to finance an interim facility that will be installed on the airport's property will take place next week. The agreement is needed to accommodate commercial airlines poised to enter the coastal Alabama market by August 31. The temporary terminal is expected to be a 12,000-ft2 structure to cost approximately $4 million. It will include electronic kiosks, six ticket counters, space for two Transportation Security Administration screeners, a holding room and restrooms. A covered baggage area will be located outdoors. The temporary facility will remain in place until a permanent, two-gate airport terminal is built in approximately four years. The overall project is estimated to cost $24 million, and Tbi and global operator VINCI Airports are charged with the operations and construction of the new facility.
Subscribe to our weekly newsletter
Sign up here for free to get Bay Business News email newsletter every Friday.