Details, Timeline For Gulf State Park, Fort Morgan Piers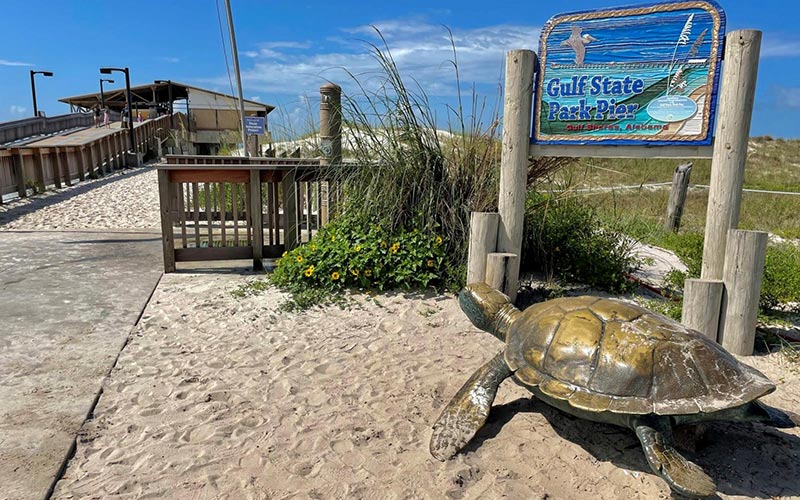 GULF SHORES, Ala. — Alabama State Parks has announced that the Gulf State Park Pier repair is currently in the permitting phase with the U.S. Army Corps of Engineers. While it is unsure of when the permit will be completed and issued, it added, "We recognize the importance of the pier to our community and guests and are working diligently to expedite the opening as soon as possible." The hope is to receive the permit early this year and put the project out for bid by late February. After a final review of the permit special award conditions, plan specifications, bids, contracting and other process requirements, the expectation is to begin construction in April. A reopening of the pier near the end of summer is feasible.
The Fort Morgan Pier on the lower end of Mobile Bay is expected to open this spring, according to the Alabama Department of Conservation and Natural Resources. The renovated pier will be L-shaped with dimensions of 305 ft by 210 ft and 40 ft wide. The pier floor will be 8 ft off the surface of the water at mean tide. The total cost of design, construction and oversight of the new pier was $3.2 million. While construction on the pier started in July 2020, a variety of situations, including COVID-19, caused delays. Now, the sheet pile work and demolition of the old retaining wall have been completed. Because the new pier is located on a historic site, special rules apply to the excavation of the area, which expanded the construction timeline. The upgraded pier will serve dual purposes by providing a fishing venue and serving as a seawall for the adjacent boat ramp and basin.
Subscribe to our weekly newsletter
Sign up here for free to get Bay Business News email newsletter every Friday.