OWA Year-Round Water Park, Summer Camp Coming Up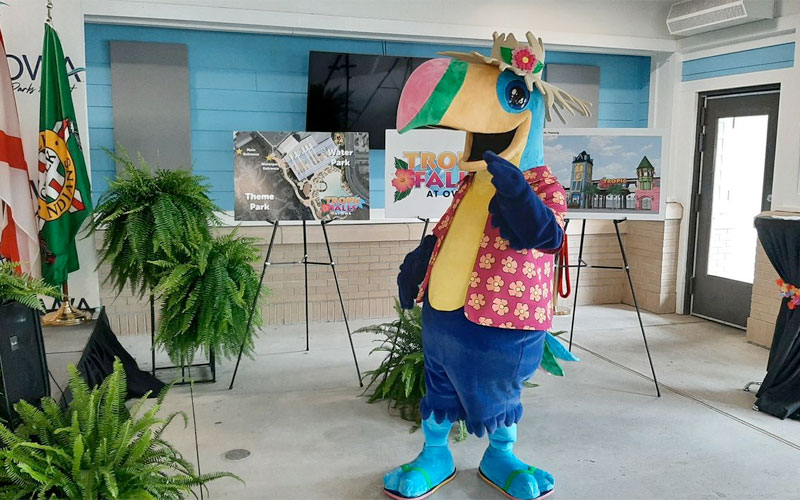 The OWA amusement complex in Foley recently announced that beyond its new indoor water park, which cost approximately $74 million (BBN #69), it's getting new branding and a new mascot, according to AL.com. Park officials hope to open in May before Memorial Day. With its opening, the entire amusement park/water park area will be known as "Tropic Falls at OWA" and share an entry gate. The concept is to give potential patrons branding that helps distinguish the amusement area from Downtown OWA. The name change also brings a new mascot, a toucan character that will be named by a contest. The indoor water park will be a year-round attraction for OWA. In-season, it will offer an option when it's too rainy to hit the beach, and out-of-season, it will remain open for locals even as the roller coasters and other rides are shut down. The 65,000-ft2 main hall of the water park will house 11 slides, a lazy river and a children's area. Some of the slides loop outside the walls before bringing riders back in; others descend below floor level before surging back up to the finish. Six of the slides are gentle, and six others are more exciting, including one that starts with a vertical drop. The main hall is flanked by a restaurant and retail area on one side and an outdoor wave pool with an integrated surf simulator and concert stage area on the other. Construction of the park will have provided 400 construction jobs by the time it's created, and operating the park will require OWA to add more than 300 employees, bringing its total summer employment to approximately 750.
Kidcam Camps, one of the largest private summer camp organizations in the Southeast, has partnered with OWA to bring summer day camp to Downtown OWA. Campers ages 5-13 will utilize OWA's amenities, enjoy specialty programs with vendors and partners, and be engaged in daily activities and programs through Kidcam's curriculum of science, technology, engineering and mathematics; sports; arts; movement; swimming; and life skills. Registration is open for camps that will take place May 31-August 5, Monday through Friday, at 9 a.m.-3 p.m. The camps are operated in weekly sessions, and before and after care are offered for a nominal fee.
Subscribe to our weekly newsletter
Sign up here for free to get Bay Business News email newsletter every Friday.